F20D Headlines Bel Air's Downtown Music Fest!

DJ Fritzges
October 28, 2013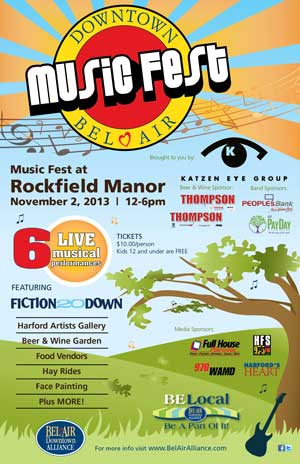 F20D was thrilled to participate in last year's 1st Annual Downtown Bel Air Music Fest, headlined by Rocket Records & MTV alumni Jimmie's Chicken Shack. This year, we're ecstatic to be the headline act, taking the reigns for the festival's second incarnation on
Saturday, Nov 2nd and joining five other great bands.
Last year's first annual festival was the brainchild of F20D's singer/songwriter Jordan, who saw a need to foster support for original music in his hometown of Bel Air. Having seen a variety of vibrant music scenes across the US, Jordan returned home from the F20D's first national tour and immediately approached the Bel Air's Downtown Alliance, pitching the idea for an all-original music festival. To that point, all public events & festivals in Bel Air featured primarily cover bands - with one exception- Fiction 20 Down. Jordan and his bandmates wanted to shed light on ALL of the the amazing original artists in their community. Fortunately, the Downtown Alliance took the idea and ran with it!!
For more details on the 2nd Annual Downtown Bel Air Music Fest, click
here
.