About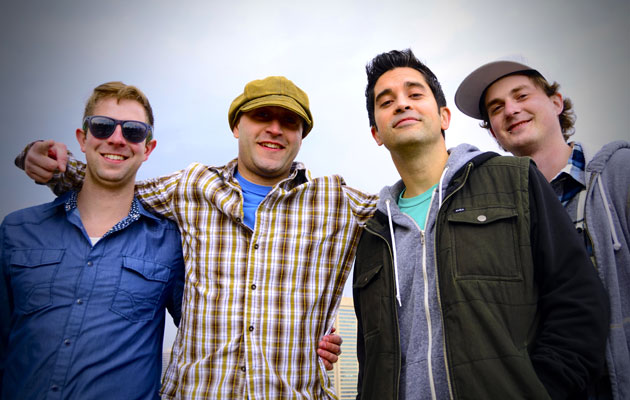 Fiction 20 Down deliver "an incredibly cool brand of music" – Skope Magazine
In the Spring of 2011, producer Jordan Lally paired his vocals & songwriting with bassist Deejmon and drummer/emcee Dre during a series of recording sessions at Jordan's studio in Baltimore, MD. The result of these sessions was 'Do Not Feed The Radio' - Fiction 20 Down's 5-song debut EP co-produced by Drew Mazurek (Linkin Park, Allman Brothers).
In 2012, Fiction 20 Down welcomed lead guitarist Wes Anderson into the fold. Wes relocated from Chicago to Baltimore and shortly after the newly minted 4-piece completed their first US tour. Highlighted by appearances at the California Roots Festival in Monterey, CA and Orioles' Opening Day at Camden Yards in Baltimore, MD, the national tour wrapped in mid-summer and the guys immediately returned to the studio.
Jordan once again paired with Mazurek to produce Fiction 20 Down's full-length follow-up 'Where's The Levity?'. The band spent time in multiple recording facilities throughout the mid-atlantic recording the new LP. Upon it's release in April of 2013 the album was hailed as "best new release" by the renowned Indie Rock Cafe who noted that F20D offered "an infusion of genre-mixing, compelling songwriting, clever instrumentations, and enticing vocalizations, creating an overall original sound that is unmistakably all their own".
Fiction 20 Down's sound is perhaps best framed by Indie Music Review who described the band's style as "a delightful, upbeat, soothing rock fusion mix, with elements of pop, hip-hop, reggae and pure rock". Singer/guitarist Jordan leads the musical charge with a vocal delivery that effortlessly twists & turns between the croon of pop star & the swagger of an emcee. When not too busy banging the drums, Dre adds to the vocal portfolio with soulful harmonies and a smooth, deep-set hip-hop delivery. The uniquely groovy foundation of the band's sound is laid by Deejmon, while Wes adds the edge with his precise lead play. Jordan & Dre round out the F20D sound with their work on the synth & keys.
When not in studio or on stage, Fiction 20 Down emphasize the importance of giving back. In addition to their various "hands-on" volunteer efforts, the band has played benefit concerts for over 30 charitable organizations since their inception.
As of Summer 2016, the guys in Fiction 20 Down launched a new, original music venture called Big Infinite. The initial launch of the new sound and performance has already received critical acclaim. However, the guys still actively perform Fiction 20 Down acoustic shows across the Mid-Atlantic!